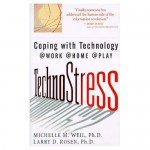 Modern technology was designed to empower us and set us free. So why do we often feel more like its slaves than its masters? From pagers to Web sites, e-mail to fax machines, each new "technohelper" places greater demands on us.
If you've ever tried to juggle a steering wheel and a cell phone, or accidentally recorded an infomercial rather than the nightly news on your VCR — then you already know what TechnoStress feels like. In this, the first "must-have" book of the information age, psychologist Michelle Weil and educator Larry Rosen explain why technology makes people feel under the gun — and how to preserve your humanity and sanity in a digital world.
The authors draw on their sixteen years of research into the psychology of technology to show exactly how technology affects our bodies and minds, and the impact it has on our lives at home, at work, and at play. The fascinating vignettes they offer explain why we feel we are losing control to technology, or being hopelessly left behind.
But for all of the problems it identifies, TechnoStress is not another polemic against technology. In fact, the authors are proponents of technology. "Technotherapist" Michelle Weil and researcher Larry Rosen have spent the past two decades showing people how to thrive in the age of high-tech. Rather than teaching you how to avoid technology, they show you how to make it work for you.

Reviews of TechnoStress
"Technology has taken over and there is only one way to stop it: take control back of our own lives. Use it when you want to, not when it wants you to. Always stay behind the leading edge, far behind. And if you are having trouble, remember, it's the fault of the technology for not understanding how you think and what you need. Need more help? Want to know how to do these things? Follow the suggestions in this book. Banish technostress for your life. If enough people do it, maybe we can banish technostress from everyone's lives." - Donald A. Norman, Senior Technical Advisor, Hewlett-Packard, Professor Emeritus, University of California, San Diego, Author of THINGS THAT MAKE US SMART and THE PSYCHOLOGY OF EVERYDAY THINGS.
"At last, some techno-comfort is available. Weil and Rosen offer the technophobe and technophile alike a wealth of practical advice on how to cope in this Age of Technology and Information. This book is a "must have' for all of us who work, play and run our lives with technology." - Professor Dennis McInerney, Head Research and Research Degrees Division, Faculty of Education, University of Western Sydney, Macarthur, Sydney Australia
"Finally, someone has addressed the human side of the information revolution." James D. Best, author of THE DIGITAL REVOLUTION
"Although some still harbor the hope that technology will just go away and leave us in a state of relaxed, primordial backwardness, it won't. It's presence is pervasive, affecting everyone. At home, at work, on vacation, at the store, and on our leisure time we rub up against the ubiquitous microchip. Has there been anything so powerful in human history that has changed our lives as quickly and as profoundly as the seemingly unstoppable march of technology? Weil & Rosen inform us of the increasingly more complex technologically advanced society that results from this march as well as about the attendant costs of this juggernaut. Fortunately enough, their message is not completely bleak, for they also suggest that the costs associated with these advances may be negotiable. "TechnoStress" does a thorough job in de-mystifying technology. Not only does the book provide a cutting edge theoretical and empirical account of the modern technological revolution, it also offers a practical starters guide to the technologically challenged individual and professional. While its subject is very current and dynamic, the appeal of "TechnoStress" is not limited to young high tech professionals. Its relevance extends from homemakers to corporate executives. The underlying message of the book is that technology, in all of it's qualitative aspects, affects all those in it's midst, not only individuals conversant with it's language and applications. As such, "TechnoStress" is a book about all of us and about the society in which we are likely to live for quite some time." - General (Res.) Mordechai Hod, Ph.D., Former Israeli Air Force commander and Commanding Officer of the Israeli Air Industry
"I have to say, I quite like the treatment done in TechnoStress. The problem is real enough that it will ring true for all readers, from the most technologically sophisticated to the most technophobic. I am struck by its 'tone' — sympathetic, constructive and pragmatic — not futuristic, not self-help back to the real world. It is honest and practical with not a lot of heavy-duty psychological theory and jargon. I particularly like the historical tidbits that set the stage for the problem as well as the interesting research findings that lend support to how technostress has invaded our world. The family of the 90s in Chapter 6 sounds, sadly, all too familiar." - Dr. John Mueller, Educational Psychologist, University of Calgary, Calgary, Alberta, Canada.